Extra E-Book Resources For You to Explore
Download Extra e-Books Free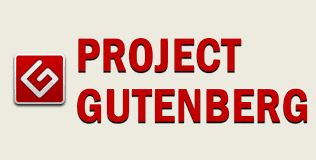 Want an e-book you can enjoy with no time limit? Download an e-book from Project Gutenberg--classic books that have been digitized. You can also download multiple e-books from this collection. Its a good way of becoming more familiar with this format and lingering a while in your reading. Project Gutenberg e-books are in the public domain and you are free to share them with others. See the full terms of use here.

Project Gutenberg includes many classics such as Little Women, Pride and Prejudice, War and Peace, and famous non-fiction titles such as Thomas Paine's Common Sense and Darwin's Origin of Species. You will also find cookbooks, how-to guides, art books, and essays. Aside from popular classics, you are certain to find hidden gems among Project Gutenberg's continually growing collection of 42,000 e-books. Search and see what you can find! To access Project Gutenberg e-books, click here.
Project Gutenberg e-books are available from our web site in EPUB format. This format is compatible with most devices except for the standard Amazon Kindle. You can read EPUB e-books on a Kindle Fire by installing the Overdrive Media Console app. If you have a standard Kindle and would like to read Project Gutenberg books, we suggest that you download the books directly from Project Gutenberg's web site which offers many of the titles in Kindle format. If your title is not available in Kindle format from the Project Gutenberg site, you can use the free software program Calibre to convert the EPUB files into MOBI format for your Kindle.
Getting Started with e-books Tutorial
Downloading e-books from the library works much the same way as checking out regular books. Each e-book can be read by one borrower at a time. When you download, or "check out", an e-book, it is no different than if you pulled the book off the shelf. Just like regular books, you can join waiting lists for e-books that are currently checked out by other patrons. When you do this, you will receive an e-mail when your e-book is available for download.

You are allowed to check out up to 2 e-books at a time and join the waiting list for 2 e-books. e-Books can be checked out for 14 days. There are no renewals. When the lending period expires, e-books will automatically disappear from your device. That's right, you don't have to worry about fines! Although you don't have to "return" e-books, most devices allow you to return them before the expiration date so that you can borrow more books.

To browse the library's e-book catalog, click the "e-books" button at the top of any page on our web site. You can sign in to the e-book catalog with your library card number and PIN by clicking on "Sign In" at the top of the e-book catalog.

Video tutorials are available here. These tutorials will help you learn how to use your specific device to download e-books. For an excellent video introduction to using the e-book catalog, check out this tutorial.
e-Book Reader Device Tutorials
Standard Kindle - Kindles with e-Ink or Paperwhite displays.
Kindle Fire - Kindle tablets.
iPad and iPhone - Apple phones and tablets.
Standard Nook / Kobo / Sony - All non-Kindle eReaders with e-Ink displays. Nook HD tablet users should use the instructions for "All Other Tablets" or the instructions for the Kindle Fire or iPad.
All Other Tablets - General instructions for most tablets including Nook HD, Samsung Galaxy, Google Nexus, and Android tablets. Tablet users can also follow the instructions for the Kindle Fire or iPad as these devices are very similar.
Computer or Laptop - Instructions for those wishing to read e-books directly from their computer or laptop.